It goes without saying that seeking out an individual who is both honest and ethical should be at the top of your criteria when choosing a financial planner. At Montgomery Financial Services, you will find that we take our fiduciary responsibility seriously by making recommendations that go beyond what would simply be suitable for your situation and provide guidance based on your best interest.
Why does working with our advisors in a fiduciary capacity matter?
Fiduciary Advisors
Make you aware of potential conflicts of interest
Non-Fiduciary Advisors
Can keep trading to earn more commission
Fiduciary Advisors
We are required by law to work in your best interest
Non-Fiduciary Advisors
Can invest your money with their own profits in mind
Fiduciary Advisors
Can work with any institution or product to find the best fit for you
Non-Fiduciary Advisors
May be required by their firms to sell you specific products, even if they're not right for you
Get Started In
3 Easy Steps

Using The Fiscal Blueprint™, we'll examine your current financial situation and determine your retirement needs.

Receive a custom strategy to help you reach your unique retirement goals.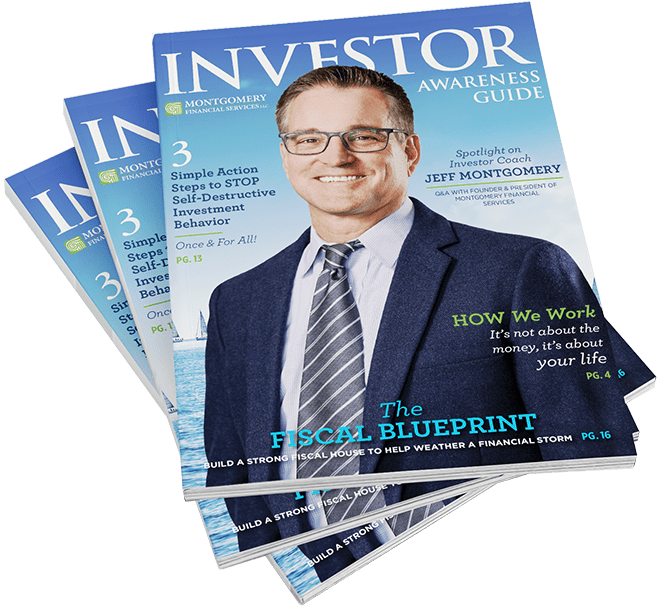 INSTANT DOWNLOAD
Are you trapped in the
"Investors' Dilemma"?
Our goal is to help you manage your finances so you can pursue
your goals. It's not about the money, it's about your life! You might not even know it. This 20-page instant download, written by Montgomery Financial Services' founder and president Jeffrey Montgomery, is designed to help you:
Discover the cycle that could hurt your portfolio
Uncover four common investment myths
Build a stronger fiscal house for years to come